Cary-Grove Community High School
Class of 1978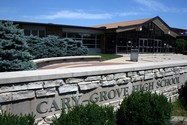 2023 is almost here !!!!
4 5 Y E A R S
---
November 3, 2022
The reunion committee is meeting to plan a gathering for our 45th next summer. We all had so much fun at our 40th that no one wanted to wait 10 more years until 2028 for another get together! We will keep things simple for our 45th but it promises to be another great time as the CG Class of 78 descends on Cary once again.
We will have a date finalized some time in December so watch this space and get ready to mark your calendar!
If you have stayed in touch with classmates who did not attend the last reunion or who are not listed in the "classmate profiles" on this site, please reach out to them and share the website information so they can join!! We would like to reach as many of our friends as possible.
We'll be back in touch soon!
______________________________________________________________________________________ Update your profile on this website so your classmates can catch up with you!!
It's easy; Click on the "Classmate Profiles" button at the top left side of the page. Click on your name, create a login and off you go! If you have already created a profile, find the "edit profile" button under "member functions". Change information, share pictures, etc. Be sure to check the appropriate boxes at the bottom of your profile to share or keep private your information!
---
We are Mighty
We are Great
We're the Class of 78 !
---